Portugal's cultural and working experience by Catalan students
14th October
We went to the high school Manuel Cargaleiro. The teachers of all of the countries introduced themselves and then the students did an activity to break the ice.
After the activity, the students showed us the school and after the school tour we went to a town called Seixal.
We did water activities and we visited the town. At 7 p.m we had dinner and some of us danced.
15th October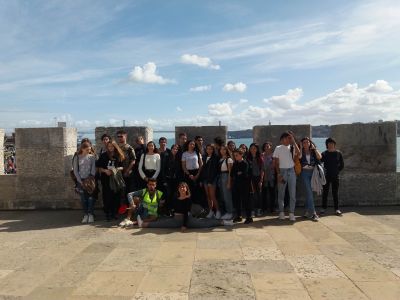 Tuesday 15th was a cultural day starting with a visit to the gothic-style Monastery of the Jerónimos in Belém (in the outskirts of Lisbon) that dates back to century XVI.
Then we had lunch many of us could try and taste acknowledged pastry "pastéis de nata".
I the afternoon we went sightseeing about the city while doing a photo rally in mixed groups that you have in our instagram @brewiswe2018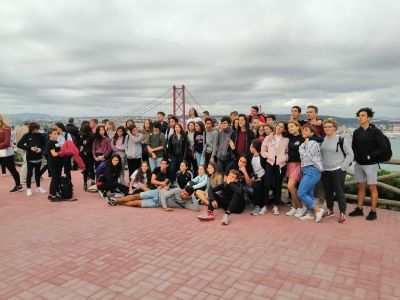 16th October
We went to "el Parque Da Paz" in  Almada to do some sport.
There were two groups: one of them walked around the park and the other did yoga and pilates. Then the groups exchanged the activities.
We had lunch in a shopping centre.
In the afternoon we visited the National Sanctuary of Christ the King.
The sculpture is 28 meters high and it's situated  by the edge of the river Tajo. It opens the arms to receive the visitors and it's the best lookout of Lisbon.
17th October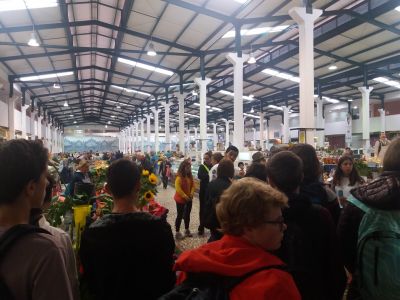 On Thursday 17th we discovered some more aspects of the local gastronomy. We went  to the central market of the county in Setúbal which was plenty of stalls packed with very fresh products, and there outstood the sea products. We discovered some species of fish that were new for us and we also learned new Portuguese words. We could also compare prices and got surprised about the lower prices of fruit and vegetables.
Afterwards we went to a restaurant where the chef demonstrated how to prepare a starter, a main course and a dessert with the food that we bought at the market; all of them very healthy and made with fish. 
18th October
We went to the school and we did two activities.
One of the activities was creating a blog related with the healthy breakfast. The students were divided in 6 groups and had to work with one of the following topics:
Importance of breakfast.

What not to eat for breakfast.

Five foodstuffs to eat for breakfast.

Creative breakfast.

Quick breakfast recipe.

My perfect breakfast.
The other activity was called "Food around Europe". It was a board game created by the Portuguese students, it consisted of answering questions about food around Europe. The team who had more correct answers won.
Then some of us went to the shopping centre and had lunch all together.