YOGURT WITH OAT CEREAL AND FRUIT AND WITH ORANGE JUICE
Ingredients:
Natural yogurt
Oat cereal
Fruit (strawberries, blue berries, banana and orange)
Material:
A bowl
A glass
A squeezer
A spoon
A knife
Recipe:
Pick a bowl.
Put the yogurt in the bowl.
Wash and cut the fruit in slices.
Put the fruit slices and the oat cereal at the top of the yogurt.
Pich a glass and cut the orange in a half.
Squeeze the two parts of the orange and add the juice.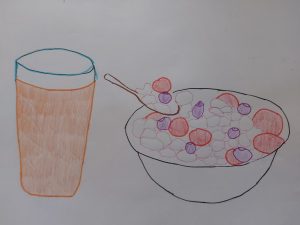 Rocío Medel Alba